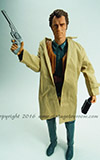 Holiday udates released! Another group added on top of our 75 items listed on The Vintage Toy Room! Newest items includes a real nice Odin and Erik Vikings! They are MINT Mint Mint! Also a boxed Flick, and other horses, several PRISTINE Silver Knight Horses and yes Vintage! I will try to remove sold items, keep in mind most are one of a kind. We have added a herd of horses, several vintage boxed figures, obver 20 custom figures with sought after Marxman CXR head sculpts. Many of the customs were ones I have had for years in my collection! I have to clean out and make space. Browse all new items to see whats there. I made the images bigger than ever so you may have to scroll or download. We show the details here, no cagey photos!
I want to officially announce the release of my newest module / book! Module #4, The beginning Heroes of the West Thru the Fort Apache Figters Series, 1964-1967! Pleaae click the books link at the right or this image to see all of our books. The latest book is jam packed with details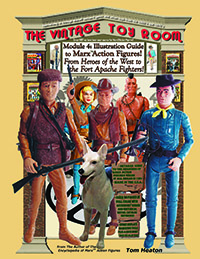 nevercovered in any of our other books. More details, more pictures, more prototypes and test shots all from 1964-1967! The book is produced by us, and over 97 pages in full color, full binding! We will be adding other information on the book later in the week in the Books info section.
We are also still clearing out more inventory, more updates coming in the upcoming month! We also have fresh new copies of Module #1 and Module #2 now shipping! Module #3 is running a little lower, and the Excyclopedia is virtuially out of print! For toys we added a few new consignment items, HIGH quality vintage Marx sets, loose items, new customs, horses, and plenty of other items not posted in a loooong time. Have a look! . We are diligently working on the 4th Module which will be bigger than any other module we have done! We are also trying to update the searching, and creating an easier way to search for toys. Thanks again for the support!
Hit the search button to browse our catalogue! .
Visit now! Free US Shipping!